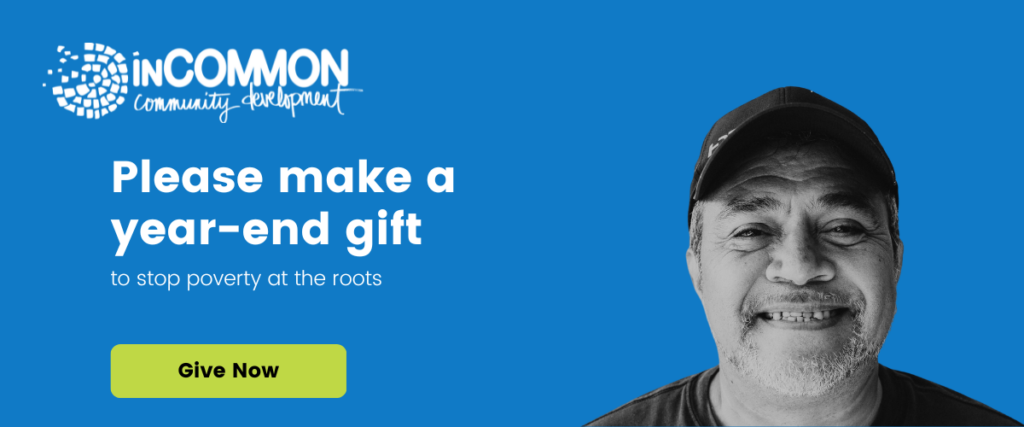 Thank you for making a gift to inCOMMON's year-end campaign by clicking here!
"The greatest cause for sustained poverty in our cities is isolation."
This quote by Dr. Robert Lupton jumped off the page when we first stumbled across it over a decade ago. While there are dozens of roads that lead to poverty, the way out can be pretty narrow. It's typically not overcome by a charitable program or stimulus check, but by community members sharing their lives and connecting each other to opportunities. This year, inCOMMON saw over 400 individuals coming together in this way, including one special neighbor named Cesar.
We first met Cesar and his family in 2014 when they were renting a house on busy Park Avenue. They often came to inCOMMON with ideas on how to support and care for our neighbors. One of these ideas was a neighborhood clean-up team sported with branded vests, "so the neighborhood would see that they were working together and be inspired to join up." Other efforts include helping build a neighborhood playground, planning for a soccer field, serving as a "Block Connector," and planting new trees to replace old ones that have disappeared over the 130-year lifespan of the neighborhood.
Like many in our neighborhoods, Cesar's family faced significant health and economic challenges during Covid, leaving them at risk of eviction due to lost income. Through Cesar's hard work and determination, he was able to overcome these challenges by leveraging tools available at inCOMMON's community resource centers.
Cesar's initiative also led him to take on job opportunities at inCOMMON, including weekly upkeep of the Park Ave Commons and landscaping of vacant lots. As inCOMMON has expanded into a second location (Walnut Hill), we're excited to share that Cesar has joined our team in an official capacity as inCOMMON's Properties Manager! Through this role, as well as his ongoing volunteer leadership in the neighborhood, Cesar will continue to unite and strengthen the neighborhood for current and future generations.
Just months ago, Cesar's landlord made a decision to sell his home, and Cesar's family was forced to move. Far too often, we see how housing instability has negative effects on health, education, employment, relational ties, and stability for both individuals and their neighborhoods. Vulnerable neighborhoods can't afford to lose local leaders like Cesar!
Through your support, inCOMMON invests deeply in our neighborhoods to ensure they have the leaders needed to drive change. Like Cesar, over 100 neighbors received workforce support this year as they overcame job and economic challenges, which were made even harder by the lasting effects of Covid-19. Over 50 residents volunteered in leadership roles in 2022, ranging from coordinating neighborhood clean-ups to hosting block socials. And in addition to hiring Cesar, inCOMMON was able to hire two other local leaders as Program Coordinators on our staff team.
Your investment in job support, adult education, and leadership training helps residents achieve economic self-sufficiency. And, so this deep investment stays within neighborhoods that need it most, it's critical that together we also provide quality housing that neighbors can afford.
Would you please invest in the success of neighbors like Cesar with a gift by December 31 by making a gift here!
$2,500 helps create one unit of affordable housing
$800 covers the application cost for one new US Citizen
$80 provides one month of ESL programming for neighbors learning English
$25 supports one neighbor in securing employment through a week of job coaching
This holiday season your donation goes even further. We're excited to share that we have a $50,000 matching gift – that means every dollar you give will be doubled through December 31!
YOU can partner with neighbors like Cesar right here in our community. Please join us in this mission of "alleviating poverty at a root level by uniting and strengthening vulnerable neighborhoods" with a gift of $25 or more.
With hope,
Rachel Bahl & Christian Gray
PS – Don't forget to make the most of your gift by donating before the end of the year. All gifts up to $50,000 will be doubled by Dec 31!